Are your computer's dekstop has too many shortcuts icons ? And you have to click over and over to find files or programs that you want to use ? Or maybe to many files and programs on your computer and you felt desperated to found it ? So, this software is for you.

Faster Then Ever is software to create shortcuts from any type of files on your computer without need place. You can create shortcuts of your favorite e-book, favorite folder, and favorite programs. Just click global hotkeys which you choose and the program will appear. Drag your folders, pictures, e-book and programs that you want too to it and ..the shortcuts is ready.

Not only that, you can create shortcuts for Control Panel Program like add or remove programs, new hardware installation defrag, clean disk etc. And you can create web shortcuts too. Is amazing, right ?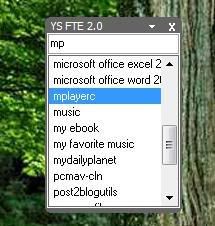 When ever you need this program, click global hotkeys and type shortcuts that do you need and click. And then the program or shortcuts will running. Just two click and everything done. You don't have to waiting a minute or hours to explore you hard disk and using windows search. Just create shortcuts collection of your favorites. It is thrift your time and effort. So, what you waiting for ? Try this and clean your desktop from any shortcuts so your can see your wallpaper in full size without distracted by any shortcuts.
Detail Informations :
Name : Faster Than Ever 2.0
Size : 1,54 mb
Type : Free for non commercial only.
Companny : Young Smarts Software (
www.youngsmarts.com
)
Download
Here
or Go to
www.youngsmarts.com
.